Trademarks of Amada Madonna.
The registered trademarks of the Amada Madonna Company make up a prestigious legacy, doing things impeccably is essential at Amada Madonna, because they are hallmarks of excellence that characterize us.
Trademarks, international treaties, intellectual property and copyright.
Selecciona tu Idioma.
Corporate logo and registered trademark.
® Amada Madonna.
♛ The chess queen accompanied by two lionesses. Powerful symbols.
Designed by the founder, the Amada Madonna logo, also known as "the shield", is represented by lionesses, by the crown of the chess queen, as well as being heavily inspired by the medieval design of the coats of arms of royal houses.
Contrary to what is normally thought, they are not lions, but lionesses, thus expressing the ferocity, efficiency, intelligence and elegance of coordinated teamwork.
® Amada Madonna is a registered and legally protected trademark in favor of the Amada Madonna Company.
Slogans.
® Passion for the luxury. ® Pasión por el lujo.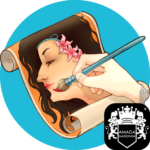 The types of slogans of the Amada Madonna Company are emblematic phrases of commercial use in favor of the company.
They are legally protected and registered in several languages.
Amada Madonna Company brand assets, including Amada Madonna trademarks, logos, icons, designs, trade dress, fonts, names of software, products, services, sounds, emojis, and any other Amada Madonna brand features and Items, registered or unregistered ("Brand Assets"), are assets owned exclusively by Amada Madonna Company.
Amada Madonna logos, designs and icons may never be used without the necessary written permission and may only be used in advertisements with a valid license agreement.
Any use of Amada Madonna Brand Assets inures solely to the benefit of Amada Madonna Company and all use must comply with written guidelines or other contractual license agreements with Amada Madonna Company. Third parties, including licensees, may never claim ownership rights to Amada Madonna Brand Assets, or marks that are confusingly similar to Amada Madonna Brand Assets, in any way, including, but not limited to, as a trademark, service mark, company name or designation, domain name, social media, media profile, or in any other way.
The Amada Madonna Company expressly reserves the right, in its sole discretion, to terminate, revoke, modify or change permission to use its brand assets at any time and expressly reserves the right to object to any use or misuse of its brand assets in any jurisdiction in the world.